It was my first real concert.
I've been to some concerts in the past, but never to one that I was really looking forward to.
And I wasn't even there for U2. I was there for the opening act: MUSE, a UK alternative rock band.
I heard them for the first time when I was abroad in France in 2006-07. I fell in love with them and have been listening to their music religiously. It's unfortunate that they are not mainstream in the US; however they do really well in Europe. They sell out for concerts in Paris and Germany, as well as in England.

So it came as a complete shock when last week, I saw the billboard for the U2 360° Tour, and written below: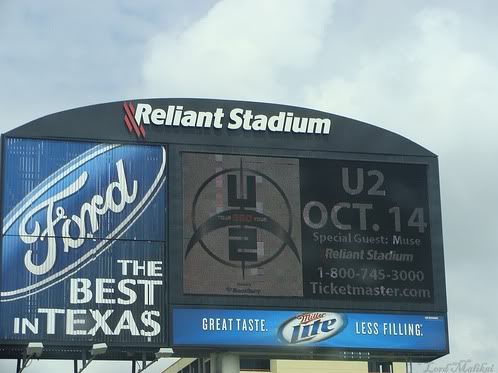 OMG!!!!!!!!!!!!

Was it a coincidence that Sebastian and I were talking about going to their concert if they EVER came to town??

I remembered my colleague saying he had a ticket to the show, and I asked him if he was still thinking of going. He told me his friend still had an extra ticket- for the floor, but wouldn't know until later that night if he was selling to a friend or not. The cost: $100.

I was more than prepared to buy it.

Later that week, my colleague notified me that the friend had in fact sold the ticket to someone else. I was bummed out that I wouldn't be able to go because second tier tickets were so far up and $100 each. That weekend, my colleague called to surprise me that the ticket had not been sold, and asked if I was still interested.

YES!!! How much?

$90

I gave him the money the next day and got my ticket.

Once there, we cut in line, pissed a whole bunch of people off and got in place behind the outer circle, where we knew they would be walking, to await the first act.

It was AMAZING.

Enjoy the show,

Renrexx